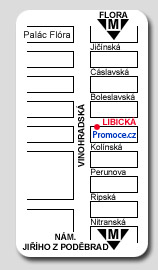 Photography of graduations, proms and other photographic services.
We photograph graduations, matriculations, proms, weddings, receptions, corporate and cultural events, school photography. Photographs for Lítaka, passport photos and photos for other IDs. Photographs for visas.
We offer photojournalism, videojournalism, express production of classic photographs, enlargements, passport photos, transcription of VHS tapes, HI-8 to DVD, DVD and CD duplication, high resolution scanning of 35mm films and slides, data rescue from all memory cards.
Photo gifts - photo puzzles, mugs and t-shirts with your own photo. Copying documents, printing documents from digital media.
Store Address: Libická 17, Prague 3 – Vinohrady – Flóra underground station
Phone.: 777 673 127
E-mail: info@promoce.cz
---
Opening hours - Libická 17, Praha 3:
Monday - Thursday: 8.00 am - 6.00 pm
Friday: 8.00 am - 5.30 pm
Payment in our shop in Vinohrady avilable in cash only.
Photos for ID cards, visas etc.
---